Prior to installation of a diesel-fueled engine in the village of Lellohoye in northern Mali, women like Safarou Adama rarely stepped outside their communities. Safarou's days were filled with labor-intensive chores, complicated by the lack of a modern energy network.
Through the Mali ACCORD Project, implemented by AECOM on behalf of USAID, we're working to expand the horizons of women in rural areas of Mali through the deployment of something very simple — small diesel generators, referred to as multifunctional platforms. These platforms help reduce daily time spent on chores, providing affordable electricity for refrigeration, lighting and other appliances, as well as pumping water and grinding millet.
Using a context-specific approach, the ACCORD team was able to access traditionally isolated communities that historically have not been supportive of women's participation in activities outside the home. The team's strategy was unique in that they gained support from village male elders first, emphasizing the advantages villages stood to gain from the income generation that the multifunctional platforms could bring.
The project saw doors being opened that improved women's well-being beyond freeing up their time. Providing a setting where women could come together regularly gave them the opportunity to network and discuss priorities in their communities — particularly issues related to their participation in economic and social life, the challenges they face when it comes to advocating for their needs, and the potential contributions women could make to minimize conflict.
The project also demonstrated that these women, given the right training and tools, are fully capable of managing business operations. The ACCORD team supported the training of platform management committees in financial oversight, basic literacy and numeracy, and association management, as well as helped facilitate dialogue around preventing/reducing conflict and gender-based violence.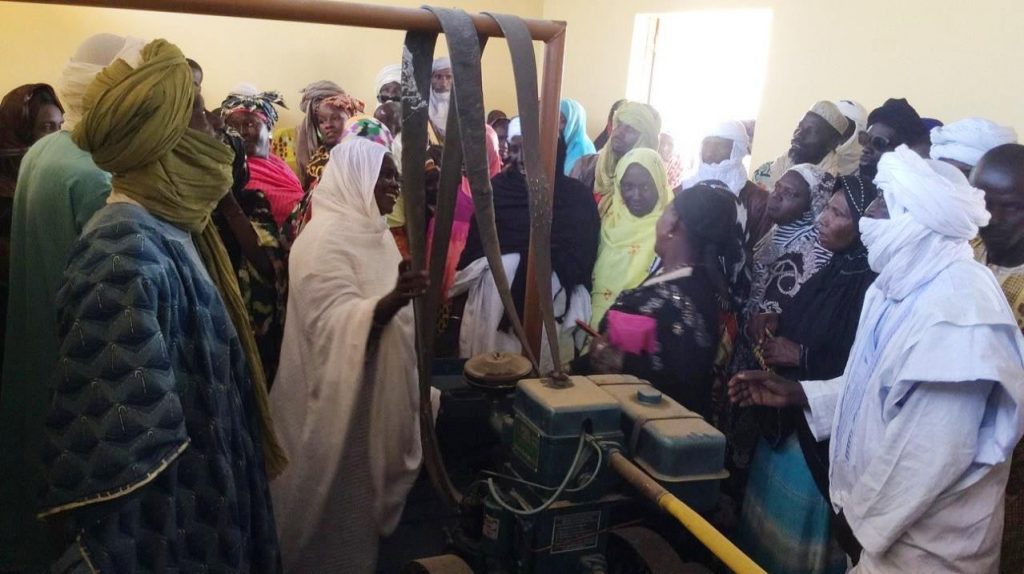 A village community comes together around one of the multi-functional platforms. 
The women from the platform management committees, including Safarou, traveled to the city of Gao to attend an event that attracted more than 500 women leaders and organizations from across the region to highlight women's priorities and help influence a national policy agenda. These women, the same women who'd never left their villages, traveled by boat for the very first time to speak up for themselves and share their experiences. Their presence on a national stage is the direct consequence of increased autonomy and greater self-confidence.
I've followed the activities supported by the Mali ACCORD Project closely and have been personally marked by the women's courage and resiliency. The reallocation of women's time results in greater visibility, increased access to disposable income and improved skills — all of which enable women to gain greater recognition for the work they do. I call that progress. These women are certainly pressing forward with renewed strength and hope, not only for their families, but for their communities as a whole.
I've worked with AECOM's International Development team for the past five years as a gender and social inclusion adviser, and I've seen the impact our projects are making in the lives of women in many corners of the world. However, the success of the Mali ACCORD Project speaks to me on a deeper level, particularly because it resonates so strongly with this year's International Women's Day theme #PressForProgress.
This blog post is part of a series celebrating International Women's Day 2018 and this year's theme, #PressForProgress.