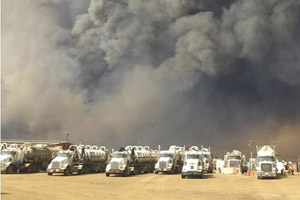 (May 12, 2016) — A massive uncontrolled wildfire has raged in Fort McMurray, Alberta, Canada, which has become the largest emergency evacuation in the province's history. AECOM has over 2,000 employees working in Alberta. Thankfully, everyone is safe and accounted for, but they now face the challenge of rebuilding their lives.
The outpouring of support from our employees has been tremendous. They want to support their colleagues impacted by this tragedy. A GoFundMe site (English only) has been created to help make that possible. All donations will be matched by AECOM, and the collective funds raised will be dispersed evenly to affected employees identified by our internal team. Participation in this fund raising effort is purely voluntary. The decision to contribute (or choose not to) will not in any way impact employees' employment.
Our thoughts are with our colleagues and their families in the Fort McMurray area.
A link to AECOM's GoFundMe site is below.