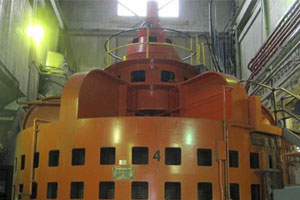 (Aug. 10, 2015) — AECOM wins the Owner's Engineer contract for the rehabilitation of the Grand Falls hydroelectric power plant located on the Exploits River in Newfoundland.
Commissioned in 1938, the Grand Falls hydroelectric generating station (74 MW) was originally built to support the pulp and paper industry in Grand Falls. Since 2008, the plant is operated and maintained by Newfoundland and Labrador Hydro (a Nalcor company) on behalf of the provincial government.
Following the discovery of severe runner cavitation during an internal inspection in the fall of 2013, the client decided to replace the runner of the Grand Falls Unit 4 with one designed for the current operating speed. The turbine unit will also be refurbished to provide a 25 year life extension.
AECOM will assist with design review, turbine manufacturing and installation during the rehabilitation of unit 4 unit at site. AECOM will provide the support during the commissioning ensuring that all guaranteed performances are met as per the contractual specifications, i.e. power, efficiency and cavitation.
"We greatly appreciate this new opportunity to assist Newfoundland and Labrador Hydro in the rehabilitation of an important hydroelectric asset," said Demis Panayotidis, AECOM's energy lead, Canada East. "AECOM has extensive experience as owner's engineer for this type of projects, and we are confident that our team of skilled professionals will deliver a successful project at the highest standards of quality, safety and sustainability."