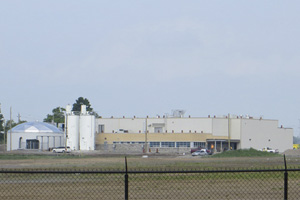 (May 2, 2016) — As of January 2016, construction of the site access road is complete and the wastewater treatment plant achieved substantial performance.
The Port Granby remediation project is part of the Port Hope Area Initiative's multi-year, multi-million dollar, complex environmental remediation contract in Port Hope, Ontario, Canada.
In 2010, AECOM was awarded, under the Port Hope Area Initiative (PHAI) Port Granby project, with the engineering design, tendering, and construction management of a Long-Term Waste Management Facility (LTWMF) intended for the long-term storage of low level radioactive waste (LLRW) at the Port Granby Waste Management Facility (PGWMF).
The PHAI is a $1.2 B federally funded nuclear decommissioning and remediation project, and a key component of the Federal Canadian Nuclear Legacies Liability Program.
The LTWMF includes an engineered landfill, incorporating a multiple barrier system and a new wastewater treatment plant, as well as numerous enabling works including new access roads, an underpass, storm water management ponds, material laydown areas, and worker and equipment decontamination facilities.
AECOM won the bid thanks to its experienced, multi-disciplinary team with a proven track record of environmental remediation projects, including projects involving radioactive waste.
"We've successfully managed this project by leveraging our technical expertise across the company," said Blair Greenly, senior project manager. "Experienced personnel from nine offices in Canada and the United States were involved in the design phase to meet the complex, multi-discipline requirements of this project."
The contract for the construction of the new LTWMF has been awarded and site mobilization is scheduled to commence this spring. The restoration of the existing Port Granby Waste Management Facility is scheduled to be completed by 2020.