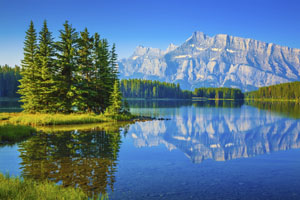 (Aug. 28, 2015) — AECOM's landscape architecture team will deliver research, planning, design and construction administration services as part of a standing-offer contract for Parks Canada Agency (PCA), the federal agency responsible for managing Canada's most-significant natural and cultural assets.
Over the next two years, AECOM will support Parks Canada in British Columbia, Alberta, Ontario, the Maritimes and Newfoundland and Labrador. The client's assets in the provinces include 26 national parks, 634 national historic sites and three national marine conservation areas.
The project's core team of landscape architects will be supported by AECOM engineers, scientists, architects and technicians, and directed by a creative review coordinator and program quality control manager.
"AECOM understands that the aim of landscape architectural design for PCA is to solve pressing landscape issues, and to achieve the vision and goals of Canada's National Parks, including protection of natural and cultural heritage of Canada's special places while fostering their public understanding, appreciation, and enjoyment," said Mike Hubicki, market sector lead, Building + Places, Design Consulting Services Americas. "Working together with PCA asset managers and relevant groups, landscape architecture at AECOM will also strive to achieve a greater synthesis, in which the landscape itself teaches, communicates, creates memorable places, and sharpens experience. Our teams in Edmonton, Regina, Winnipeg, Whitby, Markham, Montreal and Sydney look forward to collaborating on a wide range of important works under this major contract."
Canada's national parks were established to protect and present outstanding examples of natural landscapes and natural phenomena that occur in Canada's 39 regions. The parks, located in every province and territory, range from mountains to plains, boreal forests, tundra, lakes and glaciers.