AECOM received an Award of Merit (in the project management category) for the Hunt Club Road Extension project from the Consulting Engineers of Ontario (CEO). The 15th Awards Gala was held on April 8th at the International Centre in Mississauga, Ontario.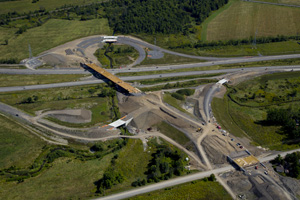 (May 2, 2017) — AECOM was the Prime Consultant for design, approvals and contract administration for the project, which provides an alternative route that helps distribute traffic during peak periods with the aim of reducing congestion and delays, as well as the associated air quality impacts.
The project consisted of a 1.6-kilometre, four-lane rural/urban arterial roadway connecting existing Hunt Club Road at Hawthorne Road to a new interchange with Highway 417, an east-west freeway serving the City of Ottawa and Eastern Ontario. This project was identified in Ottawa's Transportation Master Plan and addresses the 2007-2010 Strategic Direction to ensure that the infrastructure for new growth is built or improved, as needed.
The AECOM team, led by John Boadway, P. Eng., is proud of this award win, and grateful to the City of Ottawa for the opportunity to undertake the project. The team, together with city staff, delivered a fast-track project that provides citizens with more route options and greater flexibility, while helping the implement the city's vision for better and safer transportation infrastructure.
"Over the past 15 years, CEO's awards program has turned into a well-respected event," says Barry Steinberg, Chief Executive Officer of CEO, in a release. "Four hundred and sixty-one projects have been nominated for the awards. All of these projects had significant social, economic and environmental impact and most importantly, improved the quality of life of Canadians."
To find out more about CEO's 2017 Awards, check out their website. (English only)