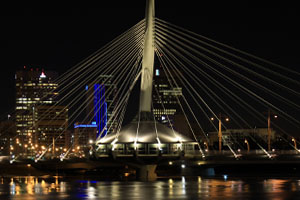 (Sep. 25, 2015) — A multidisciplinary team of AECOM experts recently won a major flood manual upgrade project for the City of Winnipeg, Manitoba, Canada.
The city's manual — a web-based application originally developed by AECOM in 2003 that triggers a set of established procedures to fight floods based on comprehensive data — has been limited to information from area flood levels that occurred through the year of 1997.
As part of the project, AECOM will expand the existing database to include the highest flood levels estimated to have occurred within the southern Manitoba province since the year 1800. The upgrade will enhance understanding of flood behavior in the region, and increase the procedural scope to protect Winnipeg in the event of an emergency.
The contract is a direct result of AECOM's ability to leverage its internal technical networks, which reunite various technical practice groups within the company and allows a better collaboration and coordination between AECOM experts across a vast range of areas of expertise located in different offices.
The new contract allows AECOM to continue its long-term relationship with the City of Winnipeg by providing the right technical resources to meet its evolving flood-protection needs.