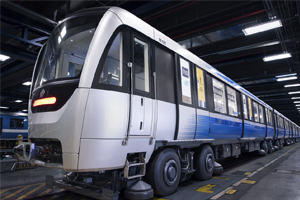 (Feb. 12, 2016) — In the 2000's, Société de transport de Montréal (STM) announced its decision to replace the old Montréal metro cars – which were close to the end of their operational life – with new ones endowed with air suspension, named MPM-10 (matériel pneumatique de Montréal 2010), or AZUR.
A joint-venture formed by Bombardier and Alstom was selected by STM to manufacture the new cars. The cost of the contract amounts approximately 1.2 billion dollars for a total order of 468 cars.
AECOM is part of a joint-venture headed up by Stantec, which was selected by the client to provide support with various aspects of the project. Within the joint-venture, AECOM provided project management and engineering resources to perform mechanical, engineering and electrical works as well as planning for the modifications of the cars' maintenance facility.
A team of experienced AECOM professionals also worked in close collaboration with STM's sustainability office to ensure the cars' design and procurement comply with the sustainable design (echo-design) and procurement principles of the International Association of Public Transport (IAPT) and of the American Public Transportation Association (APTA) sustainability charts, which STM signed in 2005 and in 2013, respectively.
On February 7, 2016, following months of tests performed without passengers during off-peak hours and under various operation conditions, which proved their performance and reliability, the first trains were finally ready to roll out into passenger service.
"We are very proud to have contributed to this project that will have a major impact on our city's sustainable future," said Pierre Raymond, AECOM's project manager for AZUR project. "The new cars are designed with the strictest sustainability criteria and offer universal accessibility."
"AZUR – which means sky blue in French – represent values that we identify ourselves with, such as safety, sustainability and resilience," added Joane St-Onge, Canada East transportation lead.