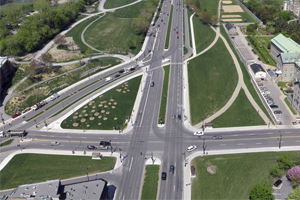 (Dec. 21, 2015) — AECOM highlights 10 years since the beginning of the works on iconic project in Montréal: the dismantlement of the old Park-Pine interchange and its replacement by the current crossroad.
Urban planning in the 50s and 60s very often promoted the use of automobiles to the detriment of pedestrians and urban landscape quality.
In Montréal, a good example is the former Park Avenue and Pine Avenue interchange. Built in 1960 at the foot of the magnificent Mount-Royal, in a densely populated neighbourhood, this interchange was nearly impossible to cross for pedestrians and was also blocking the natural view of the mountain from the ground. Furthermore, once the interchange began to deteriorate, concrete blocks started to fall down and had to be regularly removed for security means.
In 2004, in order to fix the issues and revive the natural beauty of the site, the City of Montréal selected AECOM to produce the plans and specifications and manage the construction works for the dismantlement of this obsolete structure and the construction of a secure, pedestrian-friendly and visually esthetic arrangement.
AECOM's challenges were considerable: our team had to bring together, in a coherent framework, all engineering and architectural requirements by also addressing citizen's concerns; produce a comprehensive work schedule to maintain secure mobility for pedestrians and approximately 6,000 vehicles/hour during peak hours while giving absolute priority to the ambulances of the two nearby hospitals; increase the capacity of the public transportation service, and actively participate in the creation of the first ''Good Neighborhood Committee'' for a transportation project in Montréal.
The project, carried out between 2004 and 2008, was a resounding success and brought AECOM high visibility and unmatched expertise in this type of multidisciplinary urban requalification program.
"I had the chance and the honour to manage all stages of this major project from 2001 to 2007, as head of the Bridge and Tunnels Department for the City of Montréal," said Paul Laberge, now transportation director at AECOM in Montréal. "With the design and construction of this new crossroad, our company contributed towards launching a new integrative approach in the development of multidisciplinary transportation projects of the 21st century."
The Québec Urban Design Association invited Mr. Laberge earlier this year to highlight the 10th anniversary of the works by writing an article on this major project. To read this interesting article (in French only), click here.