Consulting Engineers of Alberta (CEA) recognizes the Northeast Anthony Henday Drive DBFO with the 2017 Award of Excellence for Transportation Infrastructure (Roads, Interchanges, Airports, Mass Transit and Ports).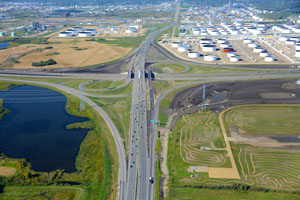 (March 27, 2017) — Northeast Anthony Henday Drive (NEAHD) is the final leg of Edmonton's ring road. This stage consisted of 18 kilometres of reconstructed freeway, 27 kilometres of new greenfield freeway and 47 bridge structures, including twin bridges over the North Saskatchewan River. The $1.8-billion P3 project, owned by Alberta Transportation, was led by Capital City Link Group and built by the FDAL joint venture. The freeway is improving commutes around Edmonton as well as efficiently supporting the movement of goods and services around the province.
AECOM was the lead designer, supported by several sub-consultants. Along with our own design responsibilities, we were also responsible for the overall coordination of the full roads, bridges, drainage, utilities, street lighting, traffic signals and signage, as well as for the environmental approvals and mitigation requirements.
We reduced time, costs and associated risks by developing an economical design and an integrated management approach and by a close coordination and communication with our client (FDAL), the owner, and the owner's engineer. Taken together, these factors enabled us to deliver a highly sustainable and successful project. The judges made the following comments: "Complex P3 projects require a high degree of collaboration, and this project met timelines and budgets despite significant existing site condition challenges. Great teamwork led the way to a successful project."
''We are proud for our contribution to a project that benefits Albertans by making daily commuting faster and easier, and facilitates the economic growth by increasing the movement of goods and services around the province'', said Doug Allingham, Executive Vice President, Canada. ''Despite significant existing site challenges, our team managed to deliver the project on time and on budget, thus helping Alberta Transportation deliver on its commitment to support the economy by focusing on capital plan projects to improve key infrastructure.''
For more information, check out the 2017 CEA Showcase Awards (English only).