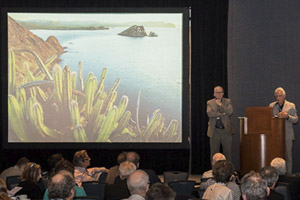 (Jun. 9, 2015) — AECOM participated as principal partner in the 2015 Congress of the Canadian Society of Landscape Architects (CSLA), which was held from May 20 to 23, 2015 at the Mexico City Reforma Hotel, Mexico.
This rear, the event had as main theme "Green Futures – Livable Cities of tomorrow," and reunited over 150 landscape architecture experts who had the opportunity to discuss different current issues, such as the sustainable future of our cities, and the contribution of the landscape architects over the next years to three key areas: landscape, urbanism and infrastructure; active transportation; and heritage and cultural preservation.
Mr. Serge Poitras, AECOM's director, landscape architecture and urban design from the Montreal office, acted as the 2015 congress chair.
"I'm proud to have contributed, as the 2015 congress chair, to the success of this important event in our field," said Mr. Poitras. "At AECOM, we are aware of the current economic, social end environmental challenges that our world is confronted with, and we work with our clients and partners to solve them and to create sustainable living landscapes for today and tomorrow."
For more information on this event and an open letter from Mr. Poitras, click here.