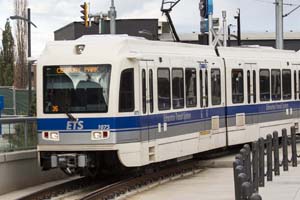 (Aug. 29, 2016) — AECOM is once again recognized as a leader on ReNew Canada's Top 100 Projects report. With 32 projects totaling more than $65.2 billion CAD, AECOM maintains its Elite Platinum designation within this prestigious ranking.
ReNew Canada's Top 100 Projects is a report that captures and celebrates these most significant projects ranked by dollar value, and the more than 200 players involved in their development and construction.
Transportation and transit continue to dominate the ranking due to particular interest in safe transportation modes, reliable transit and urban mobility – with AECOM involved in 19 projects for a total combined value of roughly $38 billion CAD (up 7.2% from last year). Energy ranks second with AECOM scoring six projects on the list (hydropower, nuclear, wind, and electricity transmission and distribution) for a total value of approximately $19.4 billion CAD. Other AECOM notables include honorable mentions going to buildings (two healthcare building projects with a total value of $3.5 billion CAD), environment (three remediation/waste management projects with a total value of $3.2 billion CAD) and respectively water/wastewater (two projects with a total value of $1.15 billion CAD). The majority of AECOM's projects are located in Ontario – home to 17 projects, mostly transit and transportation, seven are being developed in Quebec, four in Alberta, two in Manitoba, one in British Columbia and one in the Northwest Territories.
"ReNew Canada's Top 100 Projects report is an industry barometer for the infrastructure development in Canada," said Doug Allingham, executive vice president, Greater Ontario and Greater Toronto Area lead, Design and Consulting Services Americas. "Being involved in 32 out of the 100 biggest infrastructure projects shows our commitment to delivering solutions that respond to the country's infrastructure and sustainability needs''.
See the complete list of AECOM's projects in the 2016 Top 100 on the ReNew Canada website (English only).
Note: one AECOM project doesn't show in the link, since it is still listed under URS (Confederation Line, rank #20).