In recognition of International Women's Day on March 8, and this year's theme, #BeBoldForChange, we are featuring stories from our leaders and employees throughout the month of March, describing their own bold moments in relation to workplace equality and honoring diversity and inclusion.
I was raised in Brazil, immersed in the country's culture and values. I learned boldness early on from role models who are very close to home — my grandmother and my mother. Both were professionals, a business owner and a professor, in a country where women doing such things was a rarity. They were hard-working women, very strong and strong-willed.
My grandmother took my mother, left her husband and set out on her own. In 1950s Brazil, where divorce just didn't happen, this was an astonishing act. For me growing up, the boldness in my very own house became my inspiration. Brazilian women — even today — usually live with their parents until married. But, following the example of my mother and grandmother, I set out on my own and moved to the United States at the beginning of my professional career. I had no family or friends there, but I did have a belief in myself that was instilled by the women who raised me.
Being bold to me is more than just an abstraction. I remember their examples to have courage even when afraid, to try not to worry about mistakes I might make, or failures I may have. I want to be visible and notable and, maybe the most important aspect to me, say what's on my mind. Soon after arriving in the U.S., I found that my male peers had much higher salaries than I did. I had the option to be quiet about it, or to step up and demand equal treatment. I spoke my mind, and I'm glad I did; in the end, it led me to AECOM and the opportunities the company offers.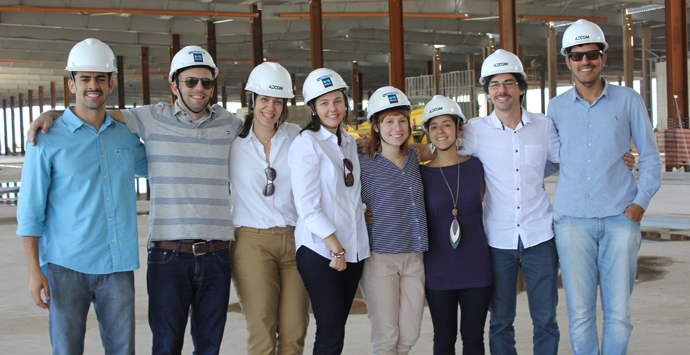 (From left) Newton Costa, Henrique Houayek, Adriana Figueiredo, Nadja de Almeida, Bruna Guimarães, Natalia Gonzalez, Diogo Taddei and Rodrigo Soares at the International Broadcast Center (IBC) during construction, located inside the Olympic Park they designed.
With the Olympics in Rio de Janeiro, I found one of those opportunities. It may seem obvious that a Brazilian architect might go to work on a Brazilian project, but this opportunity didn't seek me out. I pursued it and moved my comfortable life, my family and possessions to my native country.
At AECOM Brazil, while managing the 2016 Olympics project, I also had the opportunity to lead our Buildings and Places practice. One of my goals was to drive my team's advancement, in particular the women, by mentoring them and sponsoring their goals. Why is such a thing necessary still in today's world? Even though times have changed, the current numbers still don't represent true equality according to "Boots on the Ground, Flats in the Boardroom" by Grace Crunican and Elizabeth Levin. For example, boards of directors in most U.S. architecture/engineering firms have at best one or two female members — which means that, although progress has been made, there's still some work left to do.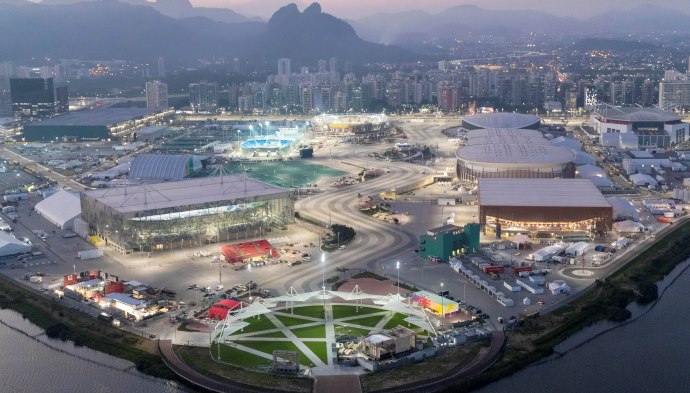 Aerial view of the Olympic Park in Rio de Janeiro, Brazil. Photo by Robb Williamson, AECOM photographer
I have been with AECOM for 13 years now, and one of the reasons I'm here is because of the more than 87,000 people working together, across 150 countries, to build a better world. Diversity is far more than race, gender, sexual orientation or religious faith — the most enriching aspect of diversity is wide, wild, different ways of thinking. Diversity is not only a social issue, it can in fact impact business success. And I hope we continue to welcome and encourage this broad range of culture, backgrounds and thinking, ensuring we promote an environment that honors this diverse group of people who make up AECOM.